Do the Maps Look Like the Paper Topomaps?
Not completely. The maps are derived from the same data that is used to create the paper maps and the maps in MapToaster Topo/NZ for your PC. However, the limitations of fthe GPS devices mean that the maps cannot be rendered with the same detail and quality.
The maps on the GPS will show all the important features, including waterways, lakes, tracks, huts, 20 metre contours, natural and manmade ground cover, fencelines, roads, railways and buildings - over map 80 layers in all.
Generally speaking the maps use the same colours and symbols that you are familiar with on the paper topomaps, with some changes made to enhance the readability on the small screen.
MapToaster Topo/NZ Map on a PC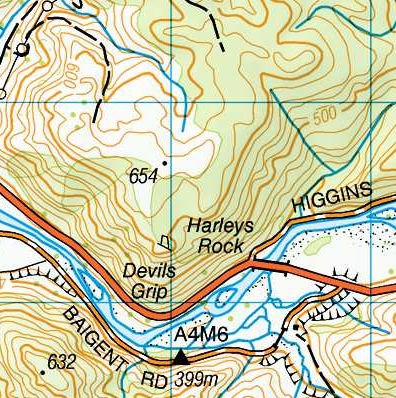 MapToaster Mobile/NZ on a Garmin GPSMAP 60CSx Map