MapToaster Topo/NZ Version 9.0
MapToaster Topo version 9.0 for your computer and GPS is available now.
If you already have MapToaster Topo/NZ V8.0 or earlier, we'll be sending out emails, with information about how to upgrade.
Map Changes
The upgrade incorporates the map updates from LINZ up to Oct 2018, to the 1:50,000 and 1:250,000 topographic mapping. Over 70 maps have had either partial or full updates. Included are many improvements to the mapping of DoC huts and tracks.
Version 9.0 includes DoC Conservation Estate boundaries (purple outline) and Scenic and Recreation Reserves (red outline).
This upgrade also includes updates of the aerial photography. The coverage of the imagery updated in V12.0 is shown on red in the map below. In 2017 all the imagery was replaced with much more recent imagery and the coverage was extended to cover all of the New Zealand mainland, except for some areas in parts of the South Island West Coast. The tan-coloured areas are those there were updated in 2017. The gray areas have no coverage.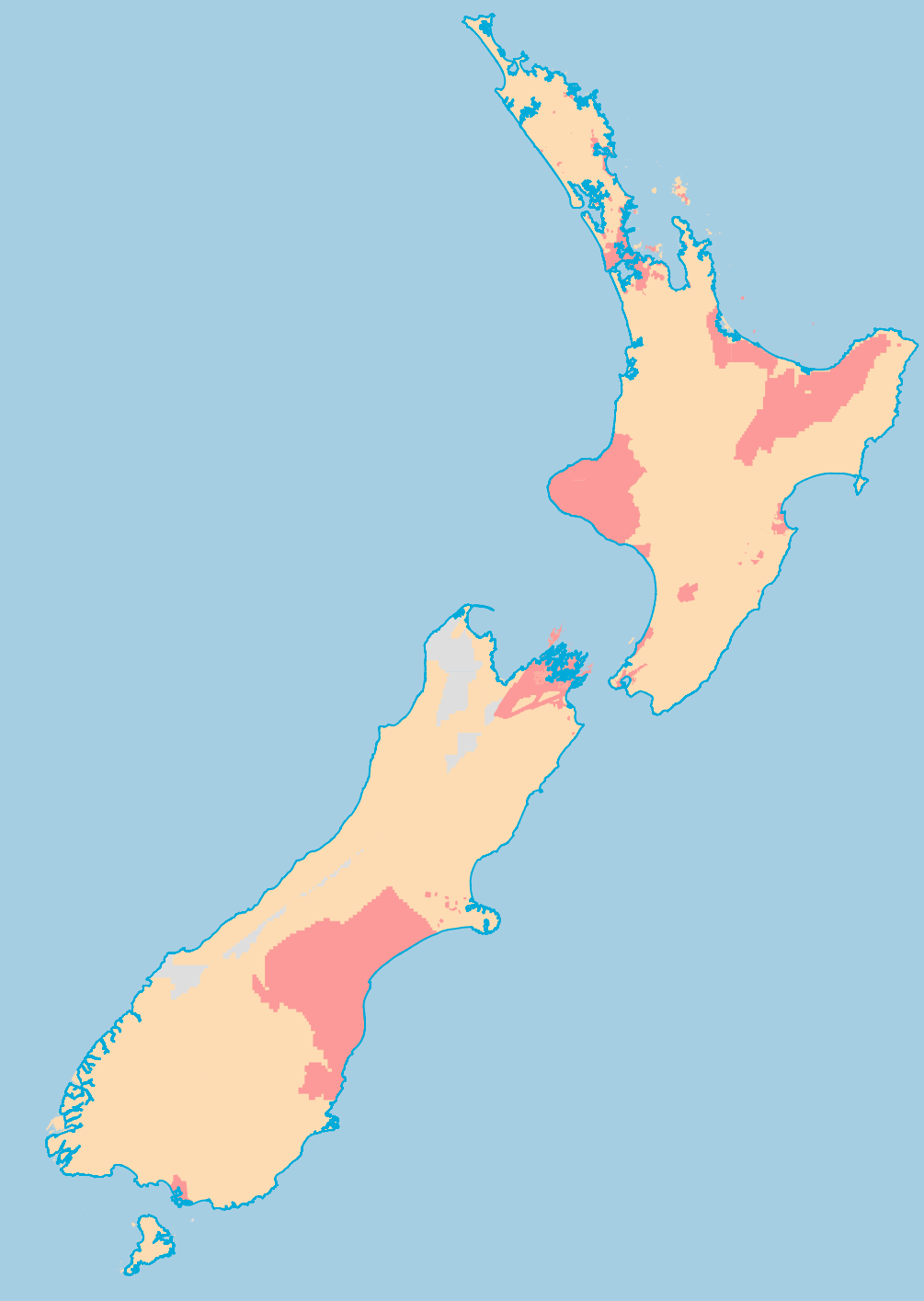 Upgrading from version 7.0 and earlier
If you are upgrading from version 7.0 or earlier, take a look at this web page for what changed in version 8.0
Upgrading from version 5.6 and earlier
If you are upgrading from version 5.6 or earlier, also check out this web page which has additional information on the changes since your current version.
How to Upgrade
We'll be sending out upgrade emails in Dec 2018. If you haven't heard from us (first check your spam folder) and you would like to upgrade to version 9.0, email us at with your serial number, or if you can't find that we can probably locate your details from your email address.
If you have TopoMap Pro, We need to know:
whether you have the High-resolution or Standard/Compact version
whether you have all New Zealand or just one Island?
your serial number
for multi-user licences, we will need a copy of the front page of your multi-user licence agreement
Updated Topo50 Map Sheets
| | | | |
| --- | --- | --- | --- |
| Sheet | Name | Edition | Date |
| AT24 | Cape Reinga | 1.05 | 2018 |
| AT25 | North Cape (Otou) | 1.03 | 2018 |
| AU25 | Houhora | 1.04 | 2018 |
| AU26 | Waiharara | 1.04 | 2018 |
| AU27 | Mangonui | 2.02 | 2018 |
| AU29ptAV29 | Panaki Island | 1.02 | 2018 |
| AV27 | Mangamuka | 2.02 | 2018 |
| AV29 | Russell | 1.04 | 2018 |
| AW30 | Whangaruru | 2.01 | 2018 |
| AW31 | Tutukaka | 1.03 | 2018 |
| AX27 | Aranga | 2.03 | 2018 |
| AX29 | Tangowahine | 2.03 | 2018 |
| AY28 | Te Kopuru | 2.04 | 2018 |
| AY29 | Ruawai | 2.02 | 2018 |
| AY31 | Mangawhai | 1.03 | 2018 |
| AY34 | Claris | 2.03 | 2018 |
| AZ29 | Kaipara Head | 2.02 | 2018 |
| AZ32 | Kawau Island | 1.05 | 2018 |
| BA32 | Auckland | 1.06 | 2018 |
| BB35 | Hikuai | 2.02 | 2018 |
| BD35 | Matamata | 1.04 | 2018 |
| BD37 | Tauranga | 1.06 | 2018 |
| BE32 | Kawhia | 1.02 | 2018 |
| BE41 | Opotiki | 1.04 | 2018 |
| BF31 | Marokopa | 1.02 | 2018 |
| BF33 | Te Kuiti | 1.03 | 2018 |
| BH32 | Tokirima | 1.02 | 2018 |
| BH33 | Retaruke | 1.03 | 2018 |
| BH42 | Nuhaka | 2.02 | 2018 |
| BJ34 | Mount Ruapehu | 1.04 | 2018 |
| BJ39 | Whirinaki | 1.05 | 2018 |
| BJ40ptBJ39 | Waipatitki Beach | 1.04 | 2018 |
| BK31 | Waverley | 2.01 | 2018 |
| BL31ptBK31 | Waiinu Beach | 2.01 | 2018 |
| BL32 | Whanganui | 1.03 | 2018 |
| BL33 | Marton | 1.02 | 2018 |
| BL34 | Hunterville | 1.03 | 2018 |
| BL36 | Norsewood | 1.04 | 2018 |
| BM24ptBN24 | Cape Farewell | 1.03 | 2018 |
| BM25ptBN25 | Farewell Spit | 1.02 | 2018 |
| BM33 | Foxton | 1.03 | 2018 |
| BM36 | Dannevirke | 1.02 | 2018 |
| BN24 | Collingwood | 1.05 | 2018 |
| BN25 | Totaranui | 1.02 | 2018 |
| BQ34 | Martinborough | 1.03 | 2018 |
| BR22 | Lyell | 1.03 | 2018 |
| BR27 | Waihopai | 1.04 | 2018 |
| BR28 | Blenheim | 1.05 | 2018 |
| BR34 | Manurewa Point | 2.01 | 2018 |
| BS20 | Charleston | 1.03 | 2018 |
| BS24 | Mount Robert | 1.05 | 2018 |
| BS25 | Severn | 1.02 | 2018 |
| BS27 | Tapuae-o-Uenuku | 1.02 | 2018 |
| BT26 | Mount Clear | 2.01 | 2018 |
| BU19 | Kumara | 1.03 | 2018 |
| BV19 | Lake Kaniere | 1.05 | 2018 |
| BV21 | Cass | 1.07 | 2018 |
| BW16 | Whataroa | 1.04 | 2018 |
| BX13 | Heretaniwha Point | 1.02 | 2018 |
| BX15 | Fox Glacier | 1.07 | 2018 |
| BX19 | Hakatere | 1.03 | 2018 |
| BY14 | Mount Ward | 1.04 | 2018 |
| BY15 | Birch Hill | 1.02 | 2018 |
| BZ16 | Dover Pass | 1.03 | 2018 |
| BZ17 | Burkes Pass | 1.04 | 2018 |
| CA12 | Minaret Bay | 1.04 | 2018 |
| CA13 | Lake Hawea | 1.06 | 2018 |
| CB12 | Cardrona | 1.05 | 2018 |
| CB17 | Kurow | 1.03 | 2018 |
| CC06 | Caswell Sound | 1.02 | 2018 |
| CC12 | Bannockburn | 1.04 | 2018 |
| CD13 | Roxburgh | 1.02 | 2018 |
| CD18 | Palmerston | 2.02 | 2018 |
| CE04 | Anchor Island | 1.02 | 2018 |
| CE07 | Lake Monowai | 1.03 | 2018 |
| CI05 | Owenga | 1.01 | 2018 |
| CI06 | Pitt Island (Rangiauria) | 1.01 | 2018 |