MapToaster Topo/NZ Version 8.0
MapToaster Topo version 8.0 for your computer and GPS is available now.
If you already have MapToaster Topo/NZ V7.0 or earlier, we'll be sending out emails, with information about how to upgrade.
Map Changes
The upgrade incorporates the map updates from LINZ up to Oct 2017, to the 1:50,000 and 1:250,000 topographic mapping. Over 100 maps have had either partial or full updates. Included are many improvements to the mapping of DoC huts and tracks.
Version 8.0 now includes DoC Conservation Estate boundaries (purple outline) and Scenic and Recreation Reserves (red outline).
This upgrade also includes a major update of the aerial photography. All the imagery has been replaced with much more recent imagery and the coverage has been extended to cover all of the New Zealand mainland, except for some areas in parts of the South Island West Coast. The coverage of the new imagery is show on red in the map below.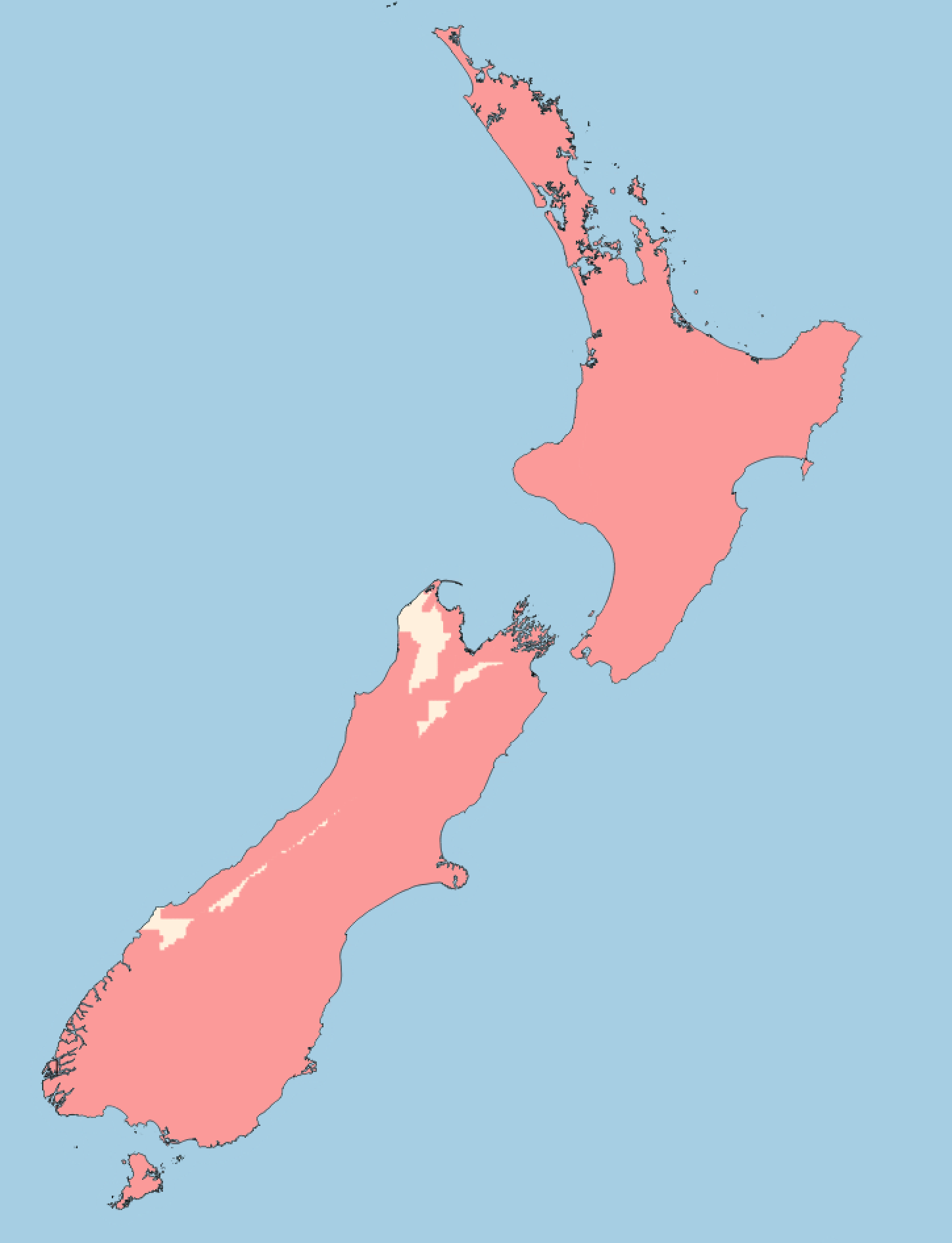 Upgrading from version 5.6 and earlier
If you are upgrading from version 5.6 or earlier, also check out this web page which has additional information on the changes since your current version.
How to Upgrade
We'll be sending out upgrade emails in Dec 2017. If you haven't heard from us (first check your spam folder) and you would like to upgrade to version 8.0, email us at with your serial number, or if you can't find that we can probably locate your details from your email address.
If you have TopoMap Pro, We need to know:
whether you have the High-resolution or Standard/Compact version
whether you have all New Zealand or just one Island?
your serial number
for multi-user licences, we will need a copy of the front page of your multi-user licence agreement
Updated Topo50 Map Sheets
Sheet
Name
Edition
Date
AV30
Cape Brett
1.03
2017
AW26
Hokianga Harbour
2.03
2017
AW27
Rawene
2.03
2017
AX28
Dargaville
2.03
2017
AX29
Tangowahine
2.02
2017
AX30
Whangarei
2.01
2017
AY28
Te Kopuru
2.03
2017
AZ32
Kawau Island
1.04
2017
BA33
Waiheke Island
2.02
2017
BA34
Coromandel
2.02
2017
BB36
Whangamata
2.01
2017
BC35
Paeroa
1.04
2016
BC36
Katikati
2.01
2017
BE36
Mamaku
1.02
2017
BE37
Rotorua
1.04
2016
BF39
Galatea
1.06
2017
BG38
Wairapukao
1.04
2017
BG39
Ruatahuna
1.03
2017
BG41
Ruakituri
1.03
2017
BH28
Oakura
2.02
2017
BH29
New Plymouth
2.03
2017
BH31
Whangamomona
1.02
2017
BH34
Raurimu
1.04
2017
BH37
Rangitaiki
1.03
2016
BH38
Te Haroto
1.06
2017
BH39
Putorino
1.03
2016
BH40
Mohaka
1.02
2016
BH41
Wairoa
1.02
2016
BH42
Nuhaka
2.01
2016
BH43
Wharerata
2.01
2016
BJ28
Opunake
2.02
2017
BJ30
Stratford
1.02
2017
BJ32
Pipiriki
1.02
2017
BJ35
Waiouru
1.03
2017
BJ37
Kuripapango
1.04
2017
BJ38
Te Pohue
1.05
2017
BJ39
Whirinaki
1.04
2017
BJ40ptBJ39
Waipatitki Beach
1.03
2017
BJ43ptsBJ42BH42BH43
Mahia Peninsula
2.02
2016
BK33
Matahiwi
1.02
2017
BK36
Taoroa Junction
1.04
2016
BK37
Tikokino
1.03
2017
BK38
Maraekakaho
1.03
2017
BK39
Hastings
2.02
2017
BK40ptBK39
Cape Kidnappers
2.02
2017
BM34
Palmerston North
1.03
2017
BM37
Weber
1.02
2016
BN32ptBP32
Kapiti Island
1.06
2017
BN33
Levin
1.03
2017
BN34
Shannon
1.05
2017
BP24
Takaka
1.05
2017
BP27
Croisilles Hill
1.03
2017
BP28
Te Aumiti (French Pass)
1.05
2017
BP32
Paraparaumu
1.09
2017
BP33
Featherston
1.07
2017
BP34
Masterton
1.05
2017
BQ21ptBQ22
Kongahu Point
1.01
2017
BQ22
Karamea
1.04
2017
BQ24
Tapawera
1.06
2017
BQ32
Lower Hutt
1.07
2017
BQ34
Martinborough
1.02
2016
BR21
Granity
1.03
2017
BR26
Mount Patriarch
1.03
2017
BR29
Seddon
1.03
2017
BS19
Punakaiki
1.02
2017
BS21
Reefton
1.03
2017
BT22
Springs Junction
1.03
2016
BT24
Ada Flat
2.05
2017
BU20
Moana
1.03
2017
BV16
Mount Oneone
1.02
2017
BV20
Otira
1.04
2017
BV22
Dampier Corner
1.03
2017
BW14ptBX14
Waikowhai Bluff
1.03
2017
BW16
Whataroa
1.03
2017
BW19
Taylors Camp
1.03
2017
BW20
Lake Coleridge
1.04
2017
BW22
Oxford
1.02
2017
BW23
Cust
1.05
2017
BW24
Rangiora
1.02
2017
BW25ptBW24
Amberley Beach
1.02
2017
BX12ptBY12
Otumotu Point
1.03
2017
BX13
Heretaniwha Point
1.01
2017
BX14
Gillespies Beach
1.04
2017
BX16
Mount Elie De Beaumont
1.06
2017
BX23
Lincoln
1.05
2017
BX24
Christchurch
1.04
2017
BY12
Haast
1.03
2017
BY13
Lake Paringa
1.03
2016
BY14
Mount Ward
1.03
2017
BY17
Lake Tekapo
1.05
2017
BY18
Ashwick Flat
1.03
2017
BZ13
Haast Pass / Tioripatea
1.04
2016
BZ14
Mount Barth
1.03
2017
CA09
Alabaster Pass
1.02
2017
CA10
Lake Williamson
1.04
2017
CA11
Aspiring Flats
1.08
2017
CA14
Lindis Pass
1.02
2017
CB08
Homer Saddle
1.04
2017
CB09
Hollyford
1.04
2017
CB10
Glenorchy
1.04
2017
CB11
Arrowtown
1.05
2017
CB13
Tarras
1.03
2017
CB15
Idaburn
1.02
2017
CB16
Naseby
2.02
2017
CB18
Ikawai
2.03
2016
CC08
Welcome Point
1.04
2017
CC11
Queenstown
1.04
2016
CC13
Alexandra
1.03
2017
CC18
Oamaru
2.02
2016
CC19ptCC18
Cape Wanbrow
2.02
2016
CD06
Deep Cove
1.03
2017
CD17
Waikouaiti
2.03
2016
CE04
Anchor Island
1.01
2017
CE05
Cooper Island
1.01
2017
CF10
Winton
1.01
2016
CH09
Mount Anglem / Hananui
1.03
2017
CI04
Waitangi
1.01
2017
CJ09
Mount Allen
1.03
2016