MapToaster Topo/NZ Version 5.0
The 5th major release of MapToaster Topo/NZ includes new 1:50,000 and 1:250,000 topographic mapping and many new software features.
The most important change is that the mapping is now in the new New Zealand Transverse Mercator project (NZTM 2000). The NZMS260 and 262 series have been replaced with the new Topo50 and Topo250 series. The other maps, aerial photography and satellite imagery are also now NZTM 2000 projection.
The Topo50 maps have had extensive updates of the huts and tracks using data from the Department of Conservation.


Topo50
NZTM Support
Version 5 fully supports NZTM. You can use or display NZTM, NZMG or WGS-84 longitude/latitude coordinates. ESRI Shape files in all three coordinate systems supported. The Excel, MIF and tab-delimited text formats include coordinates in all three coordinate systems.
Garmin Oregon and Dakota Support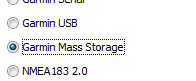 Garmin GPS mass storage style GPS units like the Oregon, Dakota, Colorado and Nuvi all appear on your computer as a removeable disk drive when you plug them in. MapToaster V5 autodetects these units and provide simple transfer of tracks and waypoints to/from the GPS.
Some of the Garmin outdoor GPS units are able to display raster imagery. These include theOregon, Dakota, Colorado. MapToaster V5 provides an easy way to select transfer and manage aerial photo and topomaps on your GPS.
If you have MapToaster Mobile/NZ on your GPS, the linework, e.g. roads, tracks, fencelines, rivers, etc are drawn over the top of the aerial photo.
Note that this facility is not a substitute for MapToaster Mobile/NZ. The raster maps and imagery that you can upload are limited to a fairly small areas and lack the Find index that the GPS product provides.
Improved Find Dialog
The Find dialog is now even easier to use. It can search placenames, road names, localities, map sheets, 6-digit map references and coordinates and NZTM, NZMG or WGS-84 cooridnates. You can also click on the reference maps and see list of nearby places. The results can be sorted by name category, distance away or a combination of these.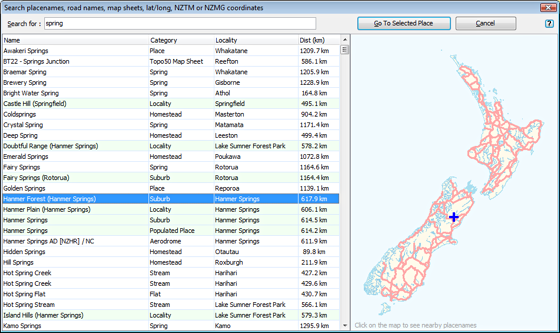 Improved Printing
The print dialog now lets you scale and drag the map to get exactly the view that you want, before you print. The grid labels on the maps are also more readable.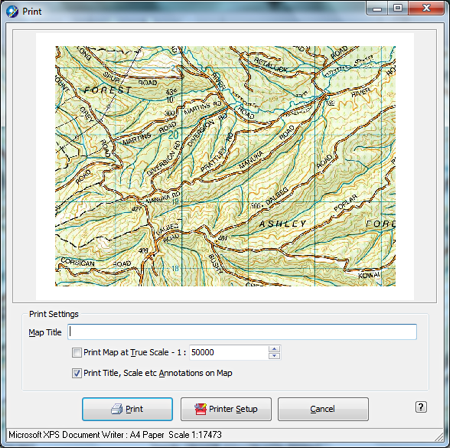 Google Earth Support
You can open and save KML files. This allows you to view you tracks and waypoints in Google Earth or import lines and points from Google Earth into MapToaster.
When when you save a map or aerial photo view to your hard drive, MapToaster now saves a Google Earth overlay file so that you can view the map or aerial photo in Google Earth.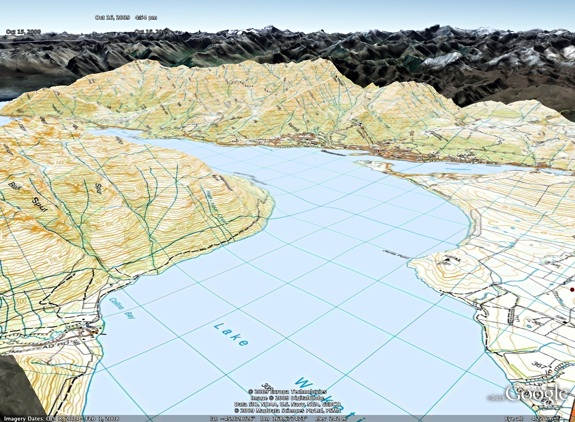 Click to enlarge image
Other Improvements
Automatically create linked waypoints from geo-tagged photos. If you have a cellphone that has a GPS, or you geo-tag photos in services like Flickr or Picasa, the images have their latitude and longitude embedded in them. MapToaster can read these images and create waypoints with links to the photo.
When drawing a track you can use the arrows keys to move the map and +/- keys to zoom in/out. This lets you draw tracks of unlimited length.
You can now set the width track lines should be drawn and set a default colour for new tracks.
The email-a-map function allows you to set up a username and password to log in to secure mail servers, such as GMail, Yahoo Mail or Xtra mail.
Tested with Microsoft Windows 7.
Netbook friendly. Works well on a 1024x600 screen. Modest hardware requirements are well suited to netbook use. A great 4WD mapping solution.
and other usability improvements....
If you have an earlier version that 4.0, then you can see the changes here
How to Upgrade
We'll be sending out upgrade emails late October and early Nov 2009. If you haven't heard from us (first check your spam folder) and you would like to upgrade to version 5, email us at with your serial number, or if you can't find that we can probably locate your details from your email address .
If you have TopoMap Pro, We need to know:
whether you have the High-resolution or Standard/Compact version
whether you have all New Zealand or just one Island?
your serial number
for multi-user licences, we will need a copy of the front page of your multi-user licence agreement